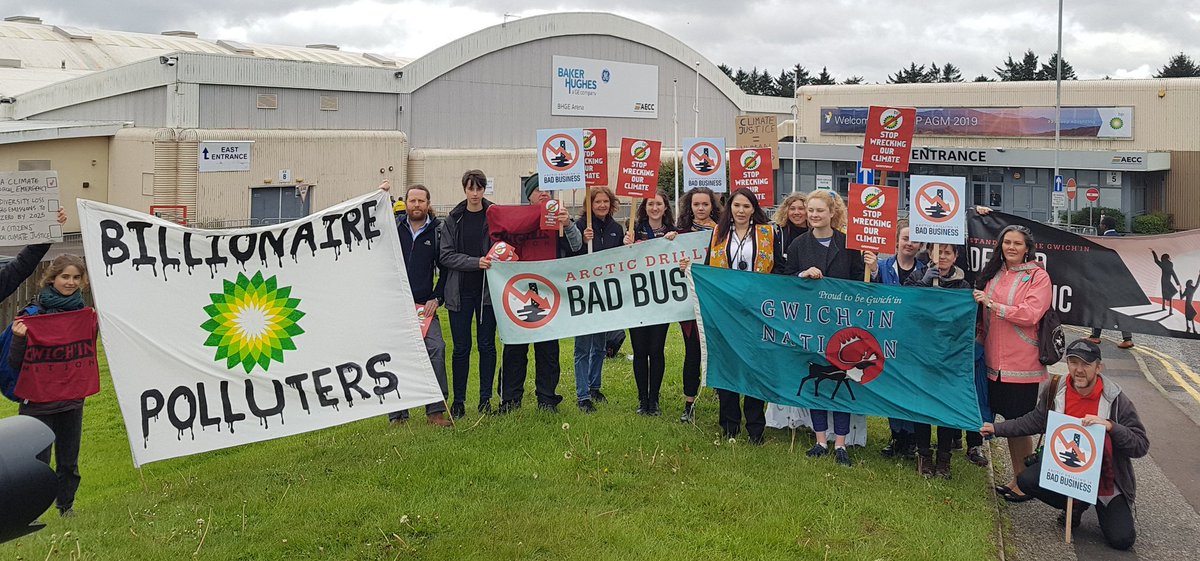 Today in Aberdeen, BP's Global AGM was disrupted by campaigners calling for stronger action on climate breakdown.
Activists from protest groups Climate Action Scotland and Extinction Rebellion Scotland halted the AGM, the oil giant's annual gathering of shareholders, by creating a 'crime scene' during the meeting and setting off 'climate alarms' from within the crowd.
Six activists set off loud personal security alarms around the room, and then surrounded BP group chief executive Bob Dudley, who last year earned $1,854,000 [1] , shouting "This is a crime scene, 250,000 people die a year due to the climate crises…". [full script below]  some attempted to glue themselves to the floor of the conference centre. After being forcibly removed from the protest by private security, the campaigners joined protestors gathered outside the AGM.
Alys Mumford, an activist with Climate Action Scotland who took part in the protest, said: "BP are one of the world's biggest climate criminals. They are responsible for oil spills in the North Sea, supported repressive regimes responsible for countless human rights abuses, and continued to ignore indigenous communities in the quest for tar sands.
As we are seeing increasingly devastating impacts of climate change across the world, it is unacceptable that fossil fuel companies are carrying on with business as usual. We are here today to highlight the crimes of BP, and call for shareholders to recognise that continuing to exploit fossil fuels is not only an unsustainable business model, but is equivalent to reckless criminality.
We are also here in solidarity with the Gwich'in community who are calling on BP not to drill in their sacred lands, campaigners in Mozambique objecting to coastal communities being displaced for gas extraction, and everyone already feeling the impact of climate change" [2] [3]
Later today at 3.30pm, Extinction Rebellion Aberdeen activists will be holding a People's Assembly outside Marischal College to share feelings and to deliberate on ideas for change in Aberdeen, the North East and Scotland. [4]
Meanwhile in Fort William, Fort William Greenpeace have joined Extinction Rebellion Fort William in a protest against BP at the North Road petrol station.
Photos and video
Images: https://drive.google.com/drive/u/0/folders/1903SIGx-7YY1EtGmNAfDaX8n5zkN9vZ1
Video: https://twitter.com/ScotlandXr/status/1130787692915109889
Notes
https://www.bp.com/content/dam/bp/business-sites/en/global/corporate/pdfs/investors/bp-directors-remuneration-report-2018.pdf
https://www.desmog.co.uk/2019/05/02/comment-i-want-bp-executives-understand-arctic-national-wildlife-refuge-sacred-ground-they-can-t-drill-it
In 2016, BP signed a contract with Italian energy giant Eni, to be the sole purchaser of gas from the Coral Liquid Natural Gas Project in Mozambique, that Eni leads with ExxonMobil. Eni's own EIA shows that by 2022, just this one project will increase the entire greenhouse gas emissions of Mozambique by 9.4%. The gas will irreversibly destroy endangered sea-life and coral of the Qurimibas Archipelago, a UNESCO Biosphere. https://www.youtube.com/watch?v=LCE6tYbEAss&feature=youtu.be
Press Release 20 May 2019: Extinction Rebellion protest BP AGM https://mailchi.mp/e9e0c19ec094/press-release-extinction-rebellion-protest-bp-agm
Climate Action Scotland is a group of people in Scotland taking direct action to fight climate change. They have previously occupied the offices of Oil and Gas UK in Aberdeen.
Extinction Rebellion Scotland have held two marches, occupied the Scottish Parliament to hold a citizens' assembly; blocked roads in Glasgow symbolising the rising tide of the Clyde; facilitated 14 arrests during an occupation of the National Museum of Scotland, disrupting the Scottish Oil Club's annual dinner with our occupation and a 'dance demonstration' outside; covered Glasgow's George Square with blue paint footprints to urge Glasgow City council to take meaningful action – and many more smaller banner drops and actions across Scotland.
Climate Action Scotland / Extinction Rebellion speech for Bob Dudley 21 May 2019
"This is a crime scene.
250,000 people die a year due to the climate crisis.
BP is responsible for 1.5% of all global emissions.
Decisions made in this room are directly responsible for deaths around the world.
This is a crime scene.
BP has trampled over indigenous rights.
The Mapuche in Argentina.
Drilling in sacred lands of the Gwich'in in Alaska.
Displacing communities in Mozambique.
This is a crime scene.
BP invest less than 3% in renewables.
But promises to invest $52 billion on new oil and gas in the next decade.
There is a climate emergency. Does this sound like a reasonable response?
This is a crime scene.
$30 million dollars a year are spent on greenwash
But we see through your lies
We know you lobbied for rollback on regulations
This is a crime scene
BP has lobbied against climate action, obstructing necessary legislation in the pursuit of profit.
Hundreds of thousands of people due every year from climate impacts.
And people in this room paid for that to worsen
BP has caused oil spills in the Gulf of Mexico.
In Russia.
In the North Sea.
This is a crime scene."